Canada is a developed country located in the northern part of  North America, it is the second-largest country in the world covering 9.98 million square kilometers by total area. The official languages of Canada are English and French It has the seventeenth-highest nominal per-capita income globally and the thirteenth-highest ranking in HDI.it is one of the most educated and peaceful countries in the world. with a low cost of living compared to other countries like the UK or The USA.
Canada is one of the best overseas destinations for studying abroad. It offers a vast array of opportunities.with a 37.1 million population, it was named the 2nd best country in the world in 2019. It provides one of the best and high-quality education, a degree from a Canadian university is recognized all around the world.
Is it worth studying in Canada?
Canada is the top destination for students all over the world. Study in Canada and fulfill all your dreams. It encourages a lot of international students and immigrants every year. A Canadian degree will be a top-up to your CV.
Reasons to study in Canada
Immigration policies– they have a lot of opportunities for international students to stay back after graduation and explore job options and also allow them to apply for PR.
Most of the world's top-ranked universities are in Canada.
An effective way of teaching.
High-quality education– the quality of Canadian education is recognized across the world
Affordable-when compared to other countries it is most affordable and comfortable.
work while you study -Express Entry Program is an online program that helps the International Students to work for 20 hours per week.
safety – it is one of the safest countries, with a high standard of living in the world.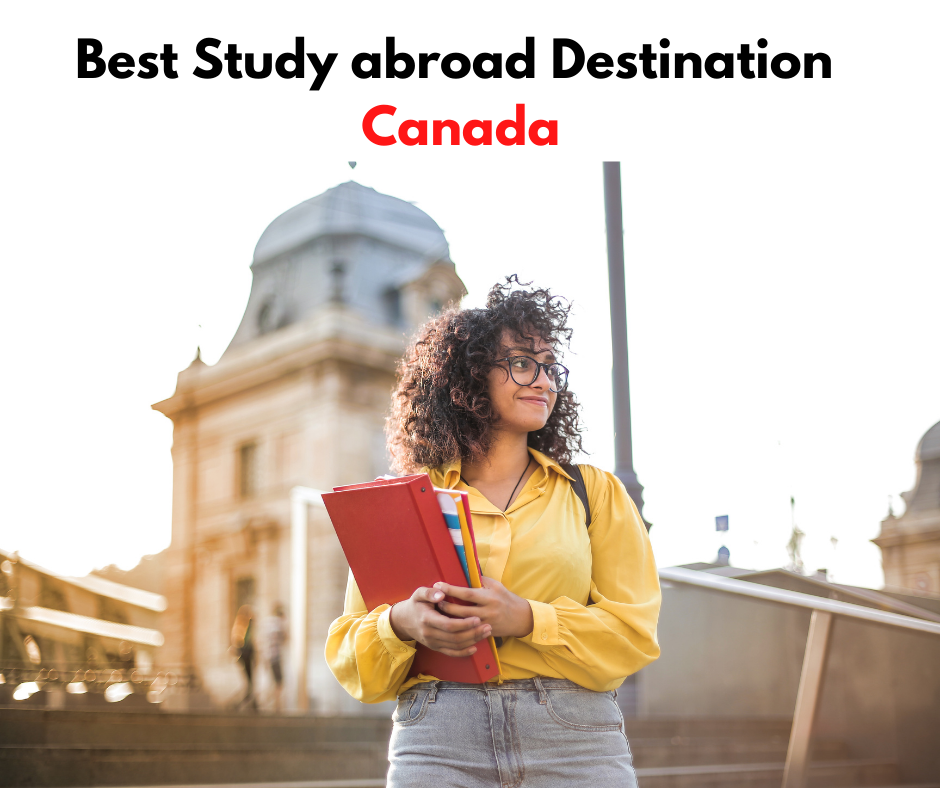 Entrance exams required for admissions in Canadian institutions?
 Different Institutions conduct various entrance exams depending upon the program before enrolling the student.
 Some of them include:
 International English language Testing System(IELTS)- It is the major English language test in the world for non-native English language speakers who are looking forward to studying, find jobs in a professional organization, or immigration in countries like the USA, UK, Australia, New Zealand, Russia, Canada, Ireland, Europe. Or for life skill to prove the speaking, listening, or writing proficiency. It is the most accurate and reliable test for checking English proficiency and skills.
 Test Of English as a Foreign Language (TOEFL)- is a standardized test to measure the English language ability of non-native speakers wishing to enroll in English-speaking universities. The test is accepted by many universities and institutions. TOEFL is one of the two major English-language tests in the world, the other being the IELTS.
Scholastic Assessment Test(SAT) -The SAT is a standardized exam intended to measure students' college readiness in a fairway. Canada does not have a counterpart to the SAT. Few Canadian universities ask applicants for SAT scores.
 Graduate Record Exam (GRE)-  It is a test for admission requirement for many graduate schools in Canada. It is a computer-based test.GRE is required for master's level admission, and some universities may need a good score in the test too. Students who intend to study business don't require appearing for the GRE exam.
 General Management Aptitude Test(GMAT) – is a computer-adaptive test that assesses the candidates' analytical writing, quantitative, verbal, and reading skills in standard written English. The cost of taking up the GMAT Exam is USD 250. It is taken to get admission into programs like MBA and Masters in Finance and any other related courses in top business schools across the world.
 Medical College Admission Test (MCAT)- The MCAT exam is required for most of the Canadian universities, applicants from Canada are no longer required to write the exam., MCAT is a must for International students medical courses in Canada for international students. It is conducted 3 times a year.
Law School Admission Test (LSAT)- is a mandatory test to get admission to most law schools in Canada. LSAT is a half-day, standardized test. LSAT is conducted four times each year at designated testing centers all around the world. Many law schools prefer that the LSAT should be taken by December for admission to the following fall.
How much does it cost to go to university for 4 years in Canada?
Compared to many other developed countries, studying in Canada and the cost of living is relatively low in Canada and very affordable . on average You will need CAD$20,000 to CAD$30,000 annually.
Is tuition fee in Canada affordable?
 The tuition fee in Canadian universities is relatively more affordable than many cities around the world. You will see that some schools offer free tuition, while others range approximately around CAD 2,000 to CAD 18,000 per year for tuition, depending on the college and programs.
Is IELTS necessary for a Canada student visa? Can we get admission to Canada without IELTS?
Canada Immigration policy does not require IELTS for the study permit application. But, most high-level Canadian teaching institutions will require you to provide proof of your language proficiency for you to be offered admission.
IELTS  one of the accepted exams.  You need to have a minimum IELTS score of 6.0 or above in each of the modules for undergraduate programs, 6.5 and above for post graduations.
 Normally having an IELTS score is recommended as it gives weightage for your resume. yet, not all universities require IELTS. It is possible to get an admission from the institute without IELTS, then you don't require any proof of testing.
How to choose a university and understand the opportunity
There are Many world-recognized institutions in Canada providing high-quality education.
Plan for your student permit in advance,  basic Documents Required For Student Visa are, Education Certificates ( 10th, 12th, Graduation, Passport Copy, Guaranteed Investment Certificate, IELTS or PTE Score Card (if necessary), Resume,
One-year tuition fees payment basis.
Your first step is to find a university or community college which as the Designated learning institution. Only DLIs can admit International students.
Take the language proficiency tests, English, French as the official languages of Canada, you can take IELTS, TOEFL for English and DALF, DELF for French.
Apply for universities to contact your desired universities, obtain the applications, and submit them in advance. neither stop at one nor apply randomly. Compare your options, identify your preferred course and institution, and select one or two alternatives as backups.
There are certain number of scholarships provided for international students like Lester B. Pearson International Scholarships, York University International Student Scholarship Program, Vanier Canada Graduate Scholarships and more.
Be careful when filling in the application form and make sure you provide accurate information with documentary evidence.
 You will have to finalize a specific major course when applying to study in Canada. The academic setup is flexible in switching courses, however it is best to choose a major beforehand, that you are truly interested in pursuing.
  Once this is done,  wait until you receive your acceptance letter from the universities.
Your permit will have a start date, it is the date from which the permit comes into force. you won't be permitted to enter Canada before this date. Plan your travel accordingly.
the final step of the immigration formality will be the verification of your permit and other documents at the place of entry before allowing you to enter Canada.
 You can also get a work permit after your graduation                  
Post-Study Work Permit, you must meet certain conditions like a valid study visa, Your employment must be related to your study program, Your employment must be part of your academic, a certified letter from responsibility for the institution.
Can I apply for PR while studying in Canada?
As an international student, you are considered as a temporary resident of the country You can stay in Canada for up to 3 years after completing your education and explore the job opportunities, if you wish to become a permanent resident you can apply for the PR. if you have been physically present in Canada for at least 1,095 days during the five years right before the date you sign your application and meet all other conditions. Have at least 12 months of full-time or the same amount in part-time work experience in Canada in the three years before applying to meet the required language levels needed for NOC.
Life of Indian students in Canada
Canada has become the most favorite place for Indian students to study, India provides most of the international students to Canada.the number of Indian students opting for Canada to study overseas is raising every year. According to Refugees and Citizenship Canada (IRCC), the number of Indian students in the country grew by 40% in 2018.
The major metropolitan cities i.e, Vancouver, Toronto, Ottawa, and Calgary are mostly preferred by the Indian students to enroll in universities and colleges. Indian students face Harsh climatic conditions in winter as Canada's winter season is much severe and longer than in India.
Toronto is the most multicultural city in the world. 140 languages are spoken in this city. India, China, UK, Ireland represent a large cultural group in the city. The highest number of Indian Canadians are found in  Ontario and British Columbia, followed by growing communities in Alberta and Quebec as well.