Australia is rapidly climbing the ladder in terms of attracting Indian students. it attracts the third-largest sum of international students after The USA and the UK.
In some countries, Australia is the first preference as a study destination. Australia's standard of living is amongst the highest in the world.
Why Study in Australia?
The Kangaroo land is globally known as one of the world's most diverse and welcoming countries; for its vibrant and dynamic culture, energetic and friendly people, laid-back nature, excellent education system, student mix, and a high standard of living.
Study in Australia is an excellent value for money, a standard of living that is among the highest in the world. Living expenses and tuition costs in Australia are considerably less expensive than the USA and the UK.
Benefits of studying in Australia
Australia is a land filled full of opportunities. universities It has seven of the top 100 universities in the world some of them including the Australian National University, the University of Melbourne, the University of Queensland.
Five of the best cities in the world for students, based on important elements like affordability, quality of life, and employment opportunities, activities, etc. when choosing the best study destination
Global Recognition
A degree from an Australian university is recognized worldwide, you have higher chances of landing in a good job, graduates from Australian institution are highly sought out in the job market. Graduates from Australia are immensely successful in finding jobs and other employment prospects after the completion of their studies.
Scholarships
Over 1000 scholarships are made available each year to support both domestic and international students. Compared to the US or The UK Australia provides more scholarship opportunities, every year the Australian Government spends approximately 200 million dollars on scholarships for international students. Some of the scholarships made available for international students include
Australia Awards Scholarships
International Postgraduate Research Scholarships (IPRS)
Australian Government Research and Training Program (AGRTP)
Endeavour Leadership Program
John Allwright Fellowship (JAF)
Easy access to student visa
Unlike other countries, there are not many restrictions and difficulties in getting an Australian study visa. it is quite easy to get a study Visa to Australia. Foreign students coming to Australia can take part in the "Overseas Student Program". But you have to meet several requirements to get a student Visa and They are
Confirmation letter of Enrollment in a study course at an Australian University.
Able to prove that you have enough financial resources for study fees, living costs, and departure.
 A certificate that proves your English skills.
 different insurances, like health insurance and liability insurance to be made.
This sounds like a lot of effort, but there are many agencies and consultants to help you through it step by step. Which makes the process relatively easy for an individual.
Cost of living In Australia
 A student gets value for money in terms of the cost of living. compared to developed countries like the UK or US The exchange factor is cheaper.
The students can easily find cheap accommodation, and with the opportunity to work in Australia as well, this is quite convenient for the students. Living expenses and tuition costs are considerably lower in Australia
Australian cities are consistently ranked as some of the most live able in the world. With an exceptional quality of education, healthcare, transport, infrastructure, and government services are rated well above international averages.
Innovation in technology
Australia is a technologically advanced country with a strong reputation for adopting new technologies, in the globally competitive economy. You will enjoy all the benefits of high-quality services, teaching, training research, art laboratories, outstanding libraries, modern technology, transportation, and infrastructure in Australia.
Australia is at the forefront of new technology and innovations. Students who study in Australia can take full advantage of the country's impressive technology and resources.
Multiculturism 
Australia is a multicultural society with respect for others no matter who they are or where they come from, People from around 150 countries have migrated to Australia, making Australia one of the most culturally diverse countries in the world. This has made the country rich with nationalities and cultures from all over the world. The multicultural society means international students are easily accepted by other students, and teachers are experienced in teaching classes students from many countries.
Safety
Australia is a friendly and welcoming country. Valuing freedom, rights of citizens, and visitors are protected under a transparent legal system. Australian cities are consistently ranked as some of the most liveable cities in the world having some of the lowest crime rates in the world.
Gain work experience while you study
Many Australian degrees and vocational courses include work experience programs and paid internships so you can gain hands-on industry experience and grow your professional network while you study. You can work up to 20 hours per week during the semester and full-time during the semester break.it is a great way to find study-related work or simply pay for your lifestyle in the country. Once you complete your degree, you may also be eligible to stay and work in Australia.
Cost of living
a student gets value for money in terms of living expenses. The conversion factor is cheaper compared to the UK or US. though higher than India, it's still cheaper than that of the UK and the US. The students can easily find cheap accommodation, with the help of scholarships and paid interns while studying, is quite convenient and helpful for the students.
Job opportunities
 Australian qualifications are recognized by employers, Government, and leading educational institutions in many countries around the world. Job opportunities in Australia are better than in many other developed countries.
Which course is in demand in Australia?
Top and demand Courses to Study in Australia for Getting Jobs and Post-Study Work Opportunities are
Accountancy
Actuarial Science
Agricultural Science
 Architecture Biomedical Engineering
Core Engineering (Civil & Structural Engineering and Construction Project Management)
Earth Sciences and Related Fields
 Computer Science & Information Technology (IT)
Psychology
Tourism & Hospitality Management Business Management & Business (Data) Analytics
Healthcare & Physiotherapy
Media, Public Relations & Advertising.
Is Australia good for studies?
with various facilities like scholarships, safety, living expenses, technology, an amazing environment, and its people, safety, part-time jobs, study, and many more factors makes Australia the best country to study and to live in.
Can students go to Australia without the IELTS on a study visa?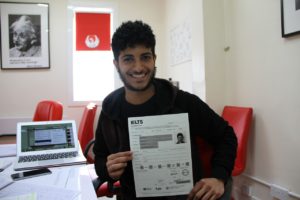 Australia accepts IELTS for migration purposes and for all visa applications, its mandatory to provide evidence for English language proficiency.  When you apply for the Australian student visa, you are required to prove your English skills with the result from an accepted English language test: IELTS, TOEFL, or PET.
How Much Does It Cost to Study in Australia?
The tuition fee for international students in Australia starts from around AUD 20,000 per year of study. The average fee is over $30,000.  Australian universities charge tuition fees based on the number of units taken.
On average It would cost approximately:
AUD20,000 – $37,000 for a Master's degree.
AUD14,000 -$37,000 for a Doctoral degree.
So if you are an Indian and planning to study in Australia then you can plan via following above given information.